Empowering high value applications with breakthrough next generation LED display technology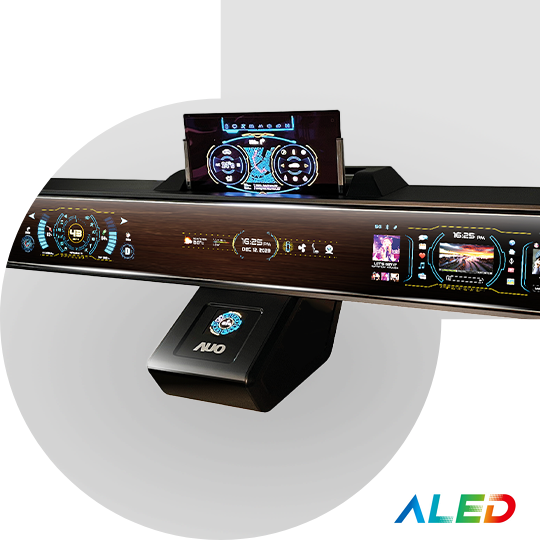 Displays that are entirely composed of single LED pixel units offer unmatched brightness and contrast ratio; when combined with various backplane technologies, this technology surpasses current design and size restrictions in building an infinite ultra-large display. This advanced LED displaying technology can also be applied in different shapes such as curves, one-dimensional arcs, or two-dimensional spheres. For mid to small-sized applications, AUO's micro LED utilizes technology to mass transfer millions of micro LEDs onto LTPS backplates to produce display modules that are industry-leading solutions with several hundred PPI pixel densities. For ultra-large displays, LED displays are seamlessly tiled to provide an optimal viewing experience in all types of large spaces.


Please click the link below to view video:
AUO ALED Immersive World
By combining years of surface treatment and image processing technology, the seamlessly tiled ALED modular product by AUO boasts fine pixel pitch and ultra-high frame rate, surpassing displays' size restrictions and meeting the need for various shapes and dimensions. Seamless tiling is possible for multiple scenarios while providing industry-leading image performance and immersive viewing experiences.
Comprehensive customized design

AUO develops customized curved displays and has solid in-house R&D capabilities for back-end image processing chips that present accurate colors and can be image calibrated to the curvature of displays. In other words, giant displays can be assembled into shapes that are irregular, curved, L-shaped, or spheres to offer users a uniquely immersive, life-like experience.

Optimal color/brightness uniformity

The audience's relative angle to the display determines their perceived image brightness and color. No matter how the user's relative angle to the monitor changes, image color and brightness is maintained at optimal levels. When comparing LCDs and OLEDs, LED display technology offers superior uniformity in color and brightness. Additionally, AUO's true black reflectionless surface treatment technology is capable of presenting high-contrast image quality.

Optimized image quality

When combined with the image engine chip designed by AUO, color bits can be expanded to fully present low grayscale and dark details as well as the most accurate colors without color cast. Furthermore, AUO's LED displays can intelligently determine image scenarios and dynamically adjust picture contrast to achieve an extraordinary image performance with smart power efficiency and high dynamic contrast.
Contact us for our comprehensive offerings