AUO one-stop shopping provides high-quality comprehensive solar energy solutions covering components and accessories for power plants, green buildings, energy storage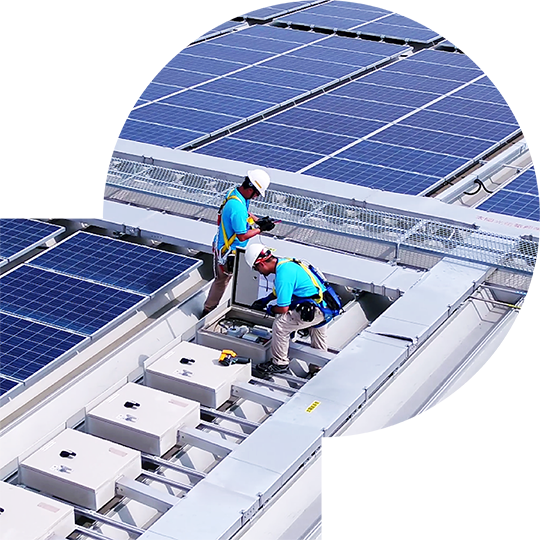 As the leading provider of comprehensive PV power plant solutions, AUO leverages abundant coordination experiences and technological strengths to integrate resources and partners to provide high-efficiency all-round solutions. From application, implementation, and operational maintenance to energy management, that can be partly or entirely customized based on customer requirements. Also, AUO offers a complete series of building PV solutions, from field assessment, module design and installation, and microgrid energy storage to system operation service. With comprehensive product portfolios and existing key technologies, AUO teams with upstream and downstream partners in all fields to help customers create smart buildings generating renewable energy efficiently.

In the meantime, through our extensive experiences in energy creation, storage, and management technologies, AUO's energy storage solutions can integrate hardware installation and software according to different application scenarios in providing ideal and all-round energy storage solutions, including AFC (Automatic frequency control) storage installation, microgrid installation, and energy storage for homes and industries to address energy transition needs.
AUO also launches premium solution packages integrating components and accessories of solar power plants, including high-efficiency PV modules, monitoring software and hardware solutions, converters, solar connectors, solar cables, environmental sensors and associated auxiliary materials and tools from AUO and leading worldwide tier 1 partners to provide channel customer services as well as simplify the processing process. AUO is responsible for quality supervision in realizing a true "one-stop shopping" experience for customers.
Comprehensive power plant solution
To achieve net zero emissions by 2050 globally and respond to market trends in Taiwan, AUO's comprehensive power plant solutions aim to supply Taiwan with renewable energy. We establish a complete power plant ecosystem by integrating professional software and hardware to create optimal customer energy performance.

AUO has extensive experience in different aspects of power plant development to provide solutions such as modular products, power plant construction, intelligent surveillance operations, and micro-grid energy management with features of high quality, performance, and reliability. AUO also sets up an innovative platform for power plant investment to start a new operation mode for sustainable energy.
Power plant development

Various extensive construction experiences across Taiwan and strong support from professional teams allow AUO to provide complete customized suggestions and project services.

Module supply

By leveraging development experiences accumulated over the past years, AUO modules can maintain excellent power generation performance and address the needs of building appearance and special field applications.

Power plant construction

As an expert in managing electric utility engineering and construction, AUO can flexibly leverage construction methods to meet the environmental conditions of particular sites with high quality and conform to local regulations.

Intelligent cloud surveillance system

AUO's integrated system combines cloud monitoring software and data recorders with high stability to detect anomalies, quantify loss, dispatch automatically, realize autonomous management and optimize operational efficiency through digital data and AI technology.

Micro-grid energy management system

Comprehensively integrate renewable energy, energy storage system and distributed energy to address the needs of various energy management.

Power plant investment

By working with renowned domestic insurance companies, AUO leverages stable funding to establish an energy company to run and invest in power plants and create a durable and sustainable investment platform for solar power plants. Investors can revitalize power plant assets to bring stable long-term investment returns.



包括的なサービスについては、お問い合わせください。