AUO offers world-class high fidelity ART display technology in creating authentic reproductions for cross-disciplinary artistic and cultural services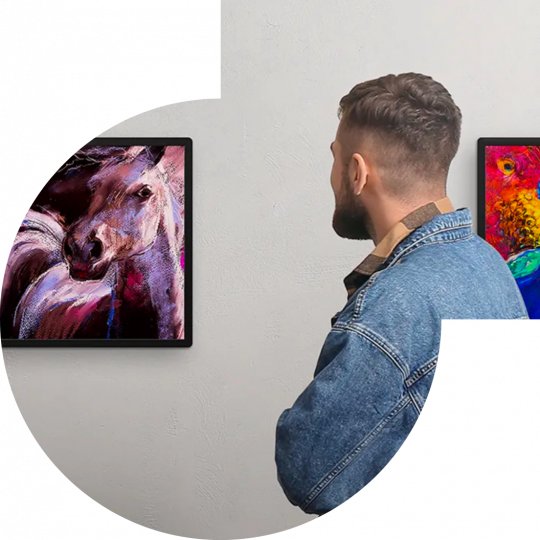 AUO's world-leading A.R.T. (Advanced Reflectionless Technology) extends its applications from eye care to artistic display technology, continuously expanding its diverse applications and serves various international public art exhibitions by promoting art appreciation. Its applications cover a wide range of fields, including off-site art curation of museums, galleries, VIP rooms, art wall design of hotels, commercial offices, and custom-made artworks for prolific art collectors. AUO offers the upmost sustainable services in breaking the limitations of confined space boundaries and create boundless experience.
FindARTs high fidelity ART display total solution
Building upon its profound core in display technology, AUO has earned recognition from numerous internationally renowned museum institutions for its High Fidelity ART Display, forming the FindARTs art space service solution. This comprehensive solution seamlessly integrates professional-grade art display management systems, and leverages cloud-based platforms to enhance the efficiency and security of image resource management. This significantly streamlines the intricate processes and management costs associated with preservation, transportation, installation and replacement, and maintenance of artworks.

Extending its diverse field-driven solutions for promoting art and cultural exhibitions, the FindARTs service is capable of meeting various settings, such as corporate headquarters, hotels, and luxury residential lobbies. It provides a comprehensive range of services, including art space planning, High Fidelity ART Display leasing, digital content authorization, white-glove installation, and more. Additionally, it can assist clients who already possess authentic artworks in handling complete process solutions, such as professionalized digital imaging acquisition, color calibration, customized frame selection, and the development of corporate art gifts. Further collaboration offerings between technology and business will continue to be expanded to provide a more diversified service experience across various domains.
A.R.T. high fidelity ART display

The High Fidelity ART Display, recognized by numerous internationally renowned museum institutions, allows the screen surface to present a texture as if it were real canvas. Bringing the utmost authentic details from the original work through its digitized presentation on a global scale.

Cloud management system

By integrating cloud-based professional image platforms and the DRM (Digital Rights Management) international digital copyright system, it is capable of achieving automatic scheduling and notification management for artwork presentations. This ensures the security of images and enhances the efficiency of art asset management. Coupled with the artwork information synchronization system, it facilitates a deeper appreciation for its viewers.c

ART boutique

We assist in transforming artistic creations into themed boutiques, gifts, co-branded digital gifts boxes, and more. This allows you to share your favorite artworks with esteemed guests, providing the highest-quality museum-grade art gifts.

ART space environment creating

We provide the best and most refined display effects through FindARTs gallery, which showcases authorized artworks from renowned artists, photographic works, and digital creations. This aims to enhance the artistic ambiance, creating the most comfortable atmosphere for both residential and business settings, including hotel VIP rooms, conference halls, restaurants, meeting spaces, art display walls and upscale residences.

ART curation

With a dedicated and integrated team in professional imaging, we provide the highest level of refined painting detail restoration, color calibration, optical adjustment, and more, akin to international museum standards. We specialize in reproducing original classics and high-end collectibles that are physically unable to cross regions for exhibitions, reviving these classics for representation.



包括的なサービスについては、お問い合わせください。