We work with manufacturers to take a giant leap forward for smarter, greener productions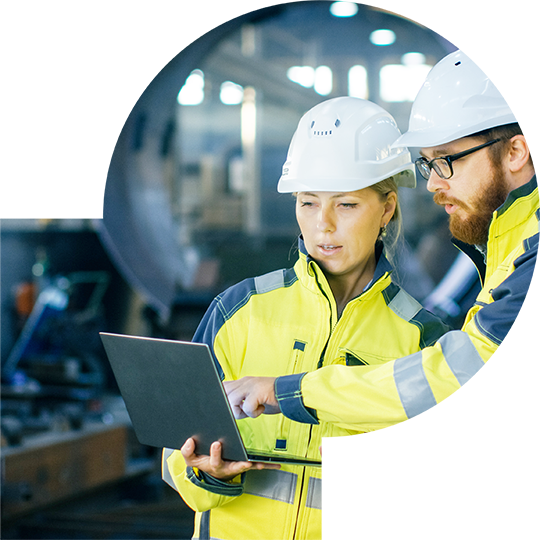 AUO understands the needs and critical points that make or break the manufacturing sector. Having manufactured over 240 million panels ranging over 1,000 models per year, we have accumulated our expertise through comprehensive and extensive process optimization of our productions. This knowledge enables us to help other businesses step forward to upgrade manufacturing processes and approaches.

Industry 4.0 has made sweeping improvements in the manufacturing sector, and we have spearheaded the change from automation to autonomous. The cumulative experience working with manufacturing industry leaders means we can leverage industrial knowledge, resources, working process, and state-of-the-art manufacturing technology into production upgrades with flexibility and efficiency. Working with us provides business accessibility to operation transformation and preparation to compete in the new industrial era.
IoT, Big Data, and cloud platform integration services are utilized to facilitate digital transformation for businesses of different scales and functions. Additionally, we offer the best next-generation technology for increasing production efficiency, as green manufacturing has become necessary. We complement this technology with our capacity to synergize the value chain and create strategic alliances for green business opportunities, proactively promote sustainable products, and increase resource utilization efficiency.
Smart factory
AUO has been actively promoting digital transformation and smart manufacturing to boost efficiency and productivity in manufacturing. The market is shifting faster than ever, where agility and the ability to adapt have become essential for manufacturers. Leveraging our years of manufacturing experience and techniques, we offer businesses different stages of smart factory development – from automation, and digitization, to smart transformation. We can provide tangible results by elevating production reliability, increasing manufacturing flexibility, and enhancing workplace safety.

As a result, AUO has earned praise from internationally well-known clients in industries including semiconductors, packaging and testing, optoelectronics, printed circuits, automotive electronics, and system assembly.
Intelligent factory construction service

The comprehensive design of the factory building system helps enterprises build an advanced, sustainable, and competitive green factory.

Digital transformation consulting and training

A Tailor-made path of digital transformation provides a comprehensive training course for different talents, and improves the self-driving force in the digital transformation of company personnel.

Industrial cloud platform service

The industrial cloud platform provides enterprises with integrated, out-of-the-box cloud solutions with resourceful industrial apps.

Automatic optical inspection

We offer automatic optical inspection to reduce errors caused by manual inspection while boosting work accuracy and efficiency in smart factories.

AIoT solution

We provide a total AIoT solution using AI, IoT, big data, and cloud computing to help clients actualize the benefits of digital transformation through upgrades in quality, operation cost, productivity, and safety.

Big data service

Our complete big data services help create intelligent operation centers with the capacity of AI decision-making intelligence that is capable of self-sensing, autonomous decision-making, and self-execution.

AI industrial intelligent cloud platform

Our industrial cloud platform integrates various AI algorithm technologies to empower manufacturing enterprises in entering the era of intelligence through reduced costs and lowered entry barriers.

Digital chemical plant

Production performance is greatly improved through the Mega MOM (manufacturing operation management) industrial software with on-site guidance of knowledge systems from our consultants.

AMR & fleet management system

Our AMR is ideal for improving production efficiency, increasing manufacturing flexibility, and enhancing workplace safety with AI obstacle avoidance. The AMR Fleet Management System is intuitive; operators can easily manage production and adjust based on real-time information. Enterprise can also integrate with other systems easily with open API.
包括的なサービスについては、お問い合わせください。