Empowering high value applications with breakthrough next generation LED display technology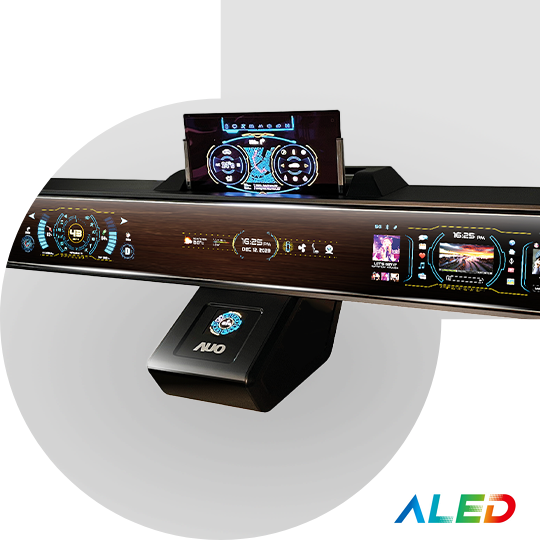 Displays that are entirely composed of single LED pixel units offer unmatched brightness and contrast ratio; when combined with various backplane technologies, this technology surpasses current design and size restrictions in building an infinite ultra-large display. This advanced LED displaying technology can also be applied in different shapes such as curves, one-dimensional arcs, or two-dimensional spheres. For mid to small-sized applications, AUO's micro LED utilizes technology to mass transfer millions of micro LEDs onto LTPS backplates to produce display modules that are industry-leading solutions with several hundred PPI pixel densities. For ultra-large displays, LED displays are seamlessly tiled to provide an optimal viewing experience in all types of large spaces.


Please click the link below to view video:
AUO ALED Immersive World
Inorganic LED's advantages of high brightness, high contrast, long life cycle, and bezel-less design make up for the shortcomings of organic OLEDs. Inorganic LEDs are the ideal option for the next generation of automotive display applications.

Foldable and highly transparent

Micro LEDs are flexible and bendable, allowing displays to be cropped into shapes for various product applications, attach tightly to all types of surfaces, and significantly increase the degree of freedom in product design. Micro LED's high transparency also lets users see objects behind the display. Their high transparency and brightness make micro LEDs the ideal display technology for augmented reality (AR) and mixed reality (MR) in fields such as automotive displays, residential interiors, commercial displays and operating rooms.

Blended

AUO has deftly combined Micro LED displays with optical films of printed glass cover plates and special structures. The development of blended Micro LED displays allows the decorative panels in vehicles to seamlessly display special patterns and textures, such as marble or carbon fiber. This creates an immersive user experience in smart cockpits.

Ultra-high brightness, long life cycle

Utilizing LEDs as display pixels maximizes their luminous efficiency, resulting in exceptional display brightness and an outstanding visual experience indoors and outdoors. In addition, compared to the organic materials used in OLEDs, LEDs boast higher stability and a longer life cycle without issues such as image burn-in and a lower likelihood of malfunctions and dead pixels.
Application
Automotive display

Automotive display: AUO's micro LED automotive displays utilizes color conversion technology and features high weather resistance and stability. Furthermore, its LED's high brightness provides readable traffic information even under bright sunlight or in areas with significant day and night temperature differences. This technology's flexible and stretchable properties allow installation in S-shaped interiors and round digital knob displays, making it ideal for automotive dashboards and center information displays.

Wearable device

Smartwatches and other wearable devices face the challenge of providing good readability under bright outdoor lighting and non-rectangular display areas; therefore, micro LEDs are the ideal display technology for wearable devices due to their ultra-high brightness, fine image quality that surpasses retina resolution, and integration with flexible substrates in the future.

Micro LED transparent window display

It is customizable across various applications in the diversified field domain, including vehicle windows in transportation, residential interiors, commercial displays, and other applicable areas, enriching the visualization experience of information and entertainment content appearance.

Foldable micro LED display

AUO 14.6-inch foldable Micro LED display features a folding hinge with a 4mm radius, a pixel density of 202 ppi, providing high resolution, high brightness and high contrast display advantages. When viewed at a wide angle, it is capable of delivering excellent color and brightness.

Blended micro LED display

The blended micro LED display seamlessly blends with the interior and seating design when turned off, maintaining a streamlined and consistent in-vehicle aesthetic; when turned on, rear-seat passengers can enjoy a comfortable and premium visual experience. 
包括的なサービスについては、お問い合わせください。