AUO combines the advantages of display technology with the group's hard and soft power to offer omni-channel, one-stop retail solutions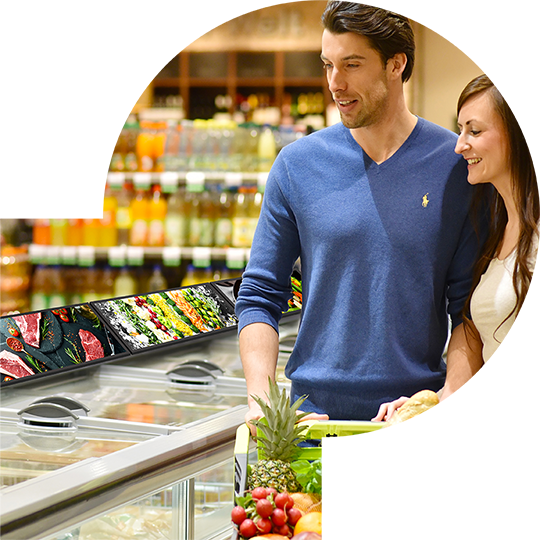 AUO has integrated advanced display technology, hardware, and software applications to launch online and offline omni-channel intelligent retail solutions. Customers can select from a comprehensive set of products, such as displays, media players, and digital content management systems, based on their requirements, request planning and consultation, system setup, or operation training based on site requirements. AUO can also support the integration and connection of various extended applications, and its complete one-stop service provides customers with easy implementation, deployment, and management in digital content marketing.
AUO strives to improve customer-centric shopping experiences in physical retail stores. Our intelligent retail solutions are suitable for various fields, including large shopping malls and boutique displays, dynamic time-sensitive marketing information in supermarkets, digital menu boards, and customer queuing management systems for restaurant franchises, indoor and outdoor product sales at retail financial institutions, large DOOH (Digital Out-of-Home) advertising signage in railway facilities, massive seamless interactive display walls in museums, and other diverse applications.
Retail solutions
AUO's core advantage in display technology combines interactive digital content management and precision marketing to help businesses create immersive customer-centric shopping experiences. AUO offers various ultra-bright display options, such as commercial LCD, tiled displays capable of meeting customized sizes and requirements for indoor and outdoor applications, and giant outdoor LED billboards that provide optimal displays for all application scenarios. Additionally, integration with a highly stable yet intuitive digital content management system allows customers to minimize the management resources of initial investments in digital marketing to achieve interactive marketing and deploy omni-channel sales.
Content management system

AUO's content management system offers cloud connectivity and an accessible, clean interface that allows administrators from the headquarters of multinational corporations to synchronously publish digital signage content to all stores across the world. Content playback can be designed according to various time slots and conditions to offer customization and flexibility, accurately helping businesses deploy promotional events and marketing strategies.

Information board

AUO offers commercial or tiled displays of various sizes and suitability for indoor or outdoor spaces to satisfy the requirements for different domains and scenarios. In addition to high resolution, high brightness, and high-quality screens that display accurate and precise information, AUO's extreme narrow bezel commercial video wall displays ensure playback continuity and create breathtaking visual experiences.

Interactive digital signage

AUO's interactive digital signage can actively trigger interactive content between products and customers based on their on-site shopping behavior. Aside from displaying product information that corresponds to customers' choices, it can help businesses actively understand customer's product requirements and accurately push notifications related to other products to increase customers' willingness to purchase and promote additional business opportunities.

Inter-player synchronization

The exclusive takeover cross-media player synchronization technology can synchronize marketing content playback for all on-site signage, realizing the concept of instant eye-catching marketing. They can also build precision, immersive experiences to increase customer desire and conversion rate.

包括的なサービスについては、お問い合わせください。