AUO offers comprehensive smart enterprise solutions capable of increasing productivity and improving the flexible use of space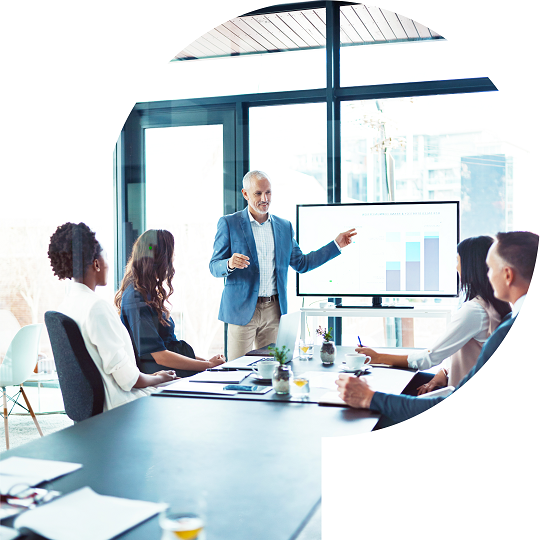 In this era of information overload, enterprises are facing an increase in various challenges. In addition, hybrid working has expanded the difficulty of enterprises managing working models and meeting spaces. Not confined by space limitations in achieving immediate, highly efficient communication and collaboration to determine the competitive advantage of enterprises' future. AUO has launched comprehensive enterprise solutions that offer flexibility and smart use of spaces while enabling smooth and powerful meeting experiences that help enterprises quickly transition to smart management.
Smart enterprise solutions
AUO offers diversified solutions for all types of meeting spaces by integrating high-resolution displays, video conferencing equipment, and management systems, enhancing interactive collaboration experiences across different platforms. In response to the demand for remote meetings, AUO integrates video conferencing technologies and collaborates with strategic partners to provide high-resolution video conferencing and streaming experiences for seamless collaboration. Furthermore, the Meeting Space management solution allows real-time cloud-based reservations to optimize the efficient use of office spaces. In Contrast, the Smart pod Solution offers a quiet workspace free from disturbances in public places and office areas.
Meeting space management solution

AUO's meeting space management solution displays occupancy statuses of office spaces in real-time and allows users to make online reservations based on their requirements. The solution optimizes the utilization of office spaces and provides a more convenient way to reserve meeting rooms and office spaces.

Meeting room solution

With consideration of actual user requirements, AUO integrates display and communication technologies that support diverse interfaces and connections, achieving smoother meetings, more efficient collaboration, and increased enterprise productivity.

Conference hall solution

In addition to providing seamless large-size display walls for large conference halls to create exceptional viewing experiences, AUO also integrates professional AV interfaces and control technologies with simple, intuitive interfaces to simultaneously manage multiple displays and split screens for a more streamlined and immersive meeting experience.

Situation room solution

AUO's situation room solution integrates display and control technologies to provide real-time access and visualization of multiple data sources, allowing enterprises to accelerate decision-making and improve work efficiency.

Smart pod solution

This workspace is designed for business professionals to perform independent work and meetings in public and office areas. Users can utilize a simple reservation system and plug-and-play video conferencing equipment to conduct various online meetings free from interference for improved work efficiencies.



Contact us for our comprehensive offerings