Revolutionizing customers' shopping experience with dynamic visual Information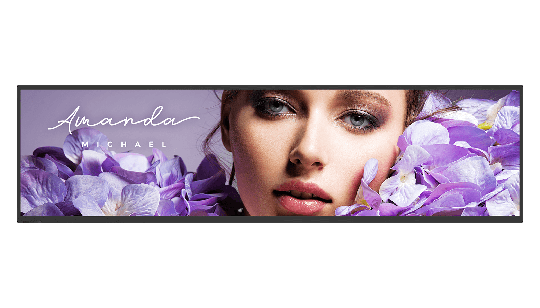 AUO provides high-quality displays that apply creatively in spaces such as in stores, showcase windows, product shelves, transportation, and transportation tools. AUO offers various products in various sizes or special stretched displays that can meet the demands of flexible applications in diverse spaces. High-standard image performance delivers outstanding life-like images with clarity both indoors and outdoors. Easily manage promotions and marketing information with the built-in CMS content management system; statistics show that it can increase consumption by 30% and satisfaction by 50%.


Explore more about Digital Signage
Feature and Technology
Products are available in many variations and sizes. They can be used in all display spaces, providing more flexibility, outstanding image quality, and brightness. In addition, commercial-grade specifications offer high durability in harsh environments, completely revolutionizing customers' experience.
High reliability and durability for 24/7 operations

The photomask manufacturing process complies with international standards and certifications to provide high reliability and durability for 24/7 operations, with uninterrupted information services, while ensuring high quality and outstanding commercial performance.

Ultra-high brightness for outdoor visibility

Up to a brightness of 2,500 nits helps businesses captivate customers' attention by ensuring that all displayed content is clear and readable under the sunlight or when wearing polarized sunglasses.

Breathtaking UHD 4K ultra-high resolution images

UHD 4K ultra-high resolution provides dynamic clarity making product information more eye-catching than before.
Contact us for our comprehensive offerings