Exquisite image quality, anti-glare eyecare, boundless vision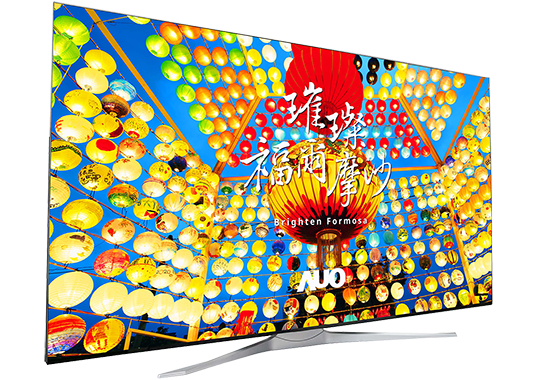 AUO leads the world with 8K zero border TVs, excellently showing minimalistic, grand, and luxurious pieces of art. This new generation TV bundles ultra-high resolution and ultra-fine image quality with Advanced Reflectionless Technology (A.R.T.), which reduces the reflection from environmental lighting, perfectly displaying images in their true colors while saving energy and protecting your eyes; additionally, the TV's high resolution, high refresh rate, and high dynamic contrast offer an immersive, exhilarating, and infinitely boundless visual experience.
Feature and Technology
The design-for-esports zero border TV is the only product that offers exquisite image quality, smooth operation, and reflectionless eyecare.
Flat zero bezel design

The flat zero border infinity screen design maximizes the viewing range by providing a screen-to-body ratio of 99%, creating an unmatched immersive experience.

Ultra-high resolution and HDR technology for refined image quality

8K4K (infinity screen) ultra-high resolution offers ultra-fine image quality with quantum dots wide color gamut technology to present accurate colors with vivid layers of detail revealing life-like colors. It supports the latest generation of HDR technology for superior local dimming and ultra-high brightness; high dynamic contrast presents an exquisite image quality with high-bit color and grey depth that perfectly recreates layers of light and shadow and fine details.

Supporting eSports-grade variable refreshing rate

Supporting eSports-grade VRR variable refreshing rate (VRR), this solution allows for high refresh rates (48-144Hz), resulting in a smooth, stutter-free viewing experience.

Unrestricted ultra-wide viewing angle

The ultra-wide viewing angle allows restriction-free viewing without dead zones, providing optimal image quality and balanced color performance from any angle.

A.R.T.

The anti-glare and anti-reflection structure design of our exclusive Advanced Reflectionless Technology (A.R.T.) eliminates gloss and minimizes reflections in well-lit environments, greatly increasing viewing comfort and protecting users' eyes.
Contact us for our comprehensive offerings