AUO's series of next-gen sensing technology offers brand new experiences of human-machine communication in the field of smart applications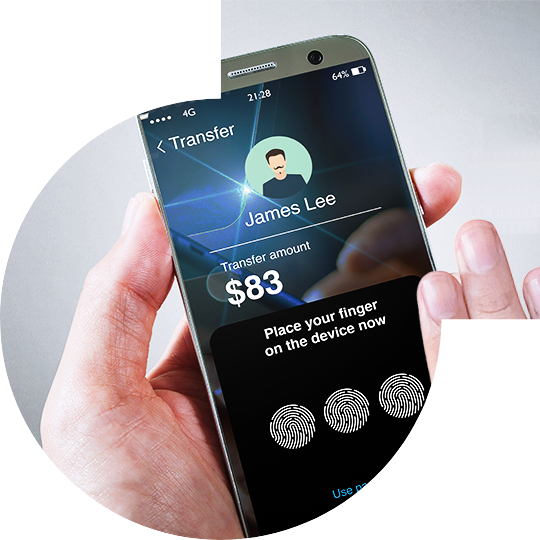 AUO utilizes TFT arrays to expand cutting-edge sensing technology and develop various sensor component products. High-resolution CMUT components with stable quality and capable of being mass-produced can be used to manufacture high-resolution ultrasound probes and patch-type probes to administer accurate measurement and physiological monitoring for patients over extended periods. In meeting X-ray equipment's new requirements, such as lightweight, movable, and customized appearances, while being able to detect particular objects, AUO combined amorphous silicon (a-Si) manufacturing processes and new package technologies to achieve flexible X-ray sensors with superior TFT mobility. Currently, AUO offers comprehensive solutions for glass and curved X-ray sensors.
In addition, AUO's TFT-based full screen optical Fingerprint on Display (FoD) technology allows the entire screen to function as a fingerprint reader with support for multi-finger recognition, thereby enhancing the security and protection of mobile devices. Compared to other technologies that integrate fingerprint recognition and display modules, TFT-based optical fingerprint recognition technology decreases display module thickness and provides a larger sensing area at lower costs, while also improving the recognition success rate.
Providing customers with a superior and easily deployable semi-modular X-ray solution. AUO has developed a flexible X-ray sensor composed of a flexible array sensor, COF bonded package, and CsI layers. Thanks to AUO's exclusive PCBA and PC procedures and its synchrotron X-ray tube, semi-modular products' comprehensive and complex quality and specification testing procedures are completed before products are shipped from factories.

Lightweight, resistant to deterioration

Glass substrates are replaced with thin film materials to reduce weight drastically. For example, the key component's weight of a 14" x 17" X-ray sensor array is drastically reduced to less than 100g. Thin film materials are lightweight and flexible to a certain degree, resulting in characteristics such as resistance to impact and destruction. As such, AUO's x-ray sensor array and semi-modular products are not only durable, and their appearance design is customized depending on tested objects to satisfy application requirements in varying fields.

Ultra-high resolution images

AUO's X-ray sensors utilize oxide TFT manufacturing process and proprietary photoelectric conversion technology that offers characteristics such as low leakage and enhanced product Signal Noise Ratio (SNR). Effectively reducing noise points, improving imaging quality, and providing ultra-high resolution digital images with high frame rate and decreased ghosting.

One-stop semi-modular solution

AUO has invested in scintillators lamination and COF bonding equipment that provide exceptional quality. Premium semi-modular X-ray sensors are comprehensively tested to help customers eliminate lengthy test procedures, accelerate product implementation schedules, and drastically reduce subsequent deployment costs.
Application
Curved X-ray sensor

The appearance of many detected objects in X-ray test applications are not flat but curved. Examples include X-ray equipment for detecting the internal state of pipelines and all types of non-destructive testing tools.

Portable X-ray equipment

X-ray sensing solutions provided by AUO are lightweight, rugged, and resistant to fall impacts. AUO can assist equipment manufacturers in developing highly rugged, portable X-ray products, including portable detectors used for X-ray diagnostics, industrial non-destructive testing, and explosion-proof products.
Contact us for our comprehensive offerings