AUO's advanced eyecare technology is applied to various fields to present exquisite images while maintaining users' eye health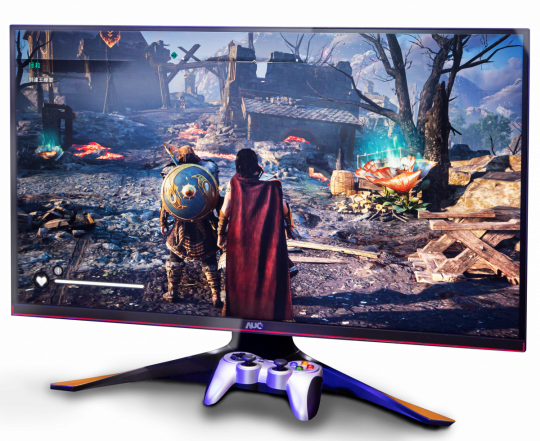 In response to vision problems stemming from the extended use of 3C products, AUO leads the industry by offering a series of eyecare technologies. Such as Advanced Reflectionless Technology (A.R.T.), Reflective LCD (RLCD), and Cholesteric LCD (ChLCD) in minimizing eye-burdening reflections, glare, and blue light while significantly improving image quality. A.R.T. utilizes a unique surface structure design to change the direction of reflected light and an extra low-reflectivity coating to scatter light, turning them undetectable by the human eye and making the technology suitable for applications in the field of healthcare and education.
AUO's reflective LCD displays provide benefits such as ultra-low power consumption and lightweight, which can be combined with memory in pixels (MIP) technology for outstanding readability in outdoor environments, making them suitable for applications in mobile wearable devices. Cholesteric LCD displays boast color saturation and brightness capable of perfectly recreating print-quality colors. In the future, sacrificing visual experiences will no longer be required to achieve a paperless world.
A.R.T.

Our A.R.T. changes reflected and scattered light direction, effectively solving issues that cause decreased readability and eye fatigue.
Visual clarity and comfort

A.R.T. lowers the disturbance of sunlight or light fixtures more efficiently than the standard anti-glare and anti-reflection film, reducing eye fatigue and straining of the eyes in extended conditions.

Receiving World's First TÜV Reflection Free

A.R.T. displays obtain the world's first "Reflection Free" certification from TÜV Rheinland,  ensuring that AUO displays maintain their clarity and readability in bright environments.

Fantastic visual performance

A.R.T. displays contain exquisite image quality superior to paper, accurately interpreting the delicate details and colors of the original works.

FindARTs services are able to meet the varying requirements of corporate head offices, hotels, or high-end residential lobbies. It provides a range of services including art space designing, High Fidelity ART Display leasing, digital content authorization, white-glove installation, and more. It can assist customers who are art collectors in handling complete process solutions such as professional image acquisition, color calibration, frame selection and ordering, and corporate art gift development. More collaboration between technology and business will continue to be explored in creating greater service experiences in the diverse domains.

Learn more : FindARTs
Application
TV display

Premium viewing and home entertainment experience with the anti-glare and anti-reflection display.

Artwork display

Life-like quality displays with intricate details suitable for displaying paintings and artwork. Learn more

Medical display

Facilitating accurate diagnosis for medical personnel and improving the precision of various surgeries, such as minimally invasive surgery with the ability to reveal details.

Monitor display

Enhancing the visual experience for all stationary user demands by displaying the most exquisite images while protecting the eyes from eye strain after intense, long-term use.

Notebook display

Eye health protection for users on the move.
Contact us for our comprehensive offerings